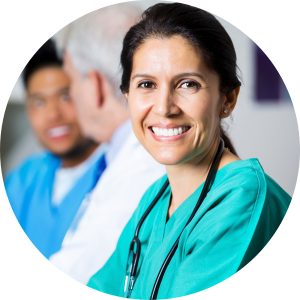 Soft Touch Home Care, Inc. was founded in 1995 by Alma Rodriguez, RN, BSN, MS. For over 20 years, we have been paving the way in San Antonio and the surrounding areas by proudly serving patients and clients with first rate, compassionate care in a home health setting. As a leader in Home Health Care services, we provide comprehensive care, guidance and support for a wide variety of needs.
Soft Touch Home Care, Inc. has established itself as a leader in the Home Health Community by being a professional organization that is committed to Quality Patient Care. Our services are carried out with a patient-focused approach to help ensure positive outcome for our clients.
We provide skilled home healthcare services, personal care services and care management to the residents of five Counties By utilizing Soft Touch Home Care, Inc. both the referring physician and the patient can be assured of personalized care from a very compassionate staff to aid in their recuperation. You can rely on us to provide quality care, in a timely manner, with an emphasis on healing and improved outcomes.
Mission Statement
Soft touch Home Care, Inc.'s mission is to participate as an active part of the community, in providing and continuously improving the home health care needs of the patient by delivering value driven, high quality, and compassionate care.
Furthermore, Soft Touch Home Health Division is licensed by the state of Texas, Certified by Medicare and Medicaid. Long Term Care Services (PHC,CAS, Waiver Program) operates under a Personal Assistance Services Category or under Licensed Home Health Category.
Soft Touch Home Care's goal is to fulfill the needs of the individual by utilizing all available services. These services include Medicare, Medicaid, Private Insurance, Primary Home Care (PHC), waiver program, Social Work, and Durable Medical Equipment (DME). Choosing Soft Touch Home Care, Inc. eliminates the need for multiple agency involvement and enables the patient to have all needs met by the QUALITY CARE Soft Touch Home Care, Inc. offers. Our staff is available to you 7 days a week, 24 hours a day-even holidays. Our caregivers bring the best health care right to your door through our services and outstanding specialty programs, including Diabetes Self-Management, Congestive Heart Failure, Psychiatric Nursing Care, and Wound Care Program.
Soft Touch Home Care services are available to anyone recovering from surgery, an injury or illness who requires medical care in his or her place of residence. We are committed to maintaining the highest quality standards in our delivery of home health care while ensuring cost efficiencies, consistent quality outcomes and reduced hospitalization for patients. Through care coordination, our professionals enable quicker and seamless transitions home.
All patients are provided with a complete nursing assessment upon admission. (Our agency is committed to assessing the patient on the same day as the referral or no later than 48 hours)
Our services enable many older adults to remain independent and active in the home and community. Routine supervision of all employees are done on an ongoing basis.